Quality, Affordable, Reliable & Cost Effective Living Solutions for Personal or Commercial Use
Nutec is a man-made fiber board. It is made by mixing short fibers into a cement mixture, which is then compressed to form a sheet material. The resulting board is very strong and very durable, and can be treated like any other cement surface. Nutec Houses
Nutec is actually a trade name for a particularly high quality cement fiber board, which complies with all relevant SABS standards. The boards are used as a cladding to replace traditional pine boards on Wendy houses and garden sheds.
Nutec Wendy Houses will last longer than traditional pine clad structures, and require less maintenance; however, Nutec does require a higher initial investment to build.
Want a no obligation quote to your exact specification…? Nutec Houses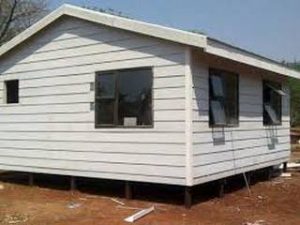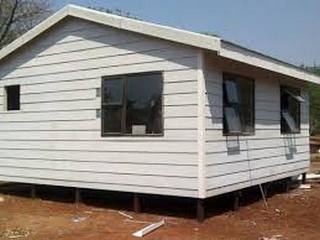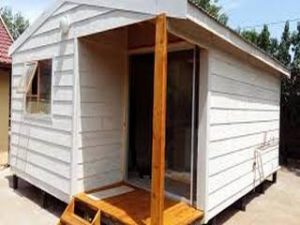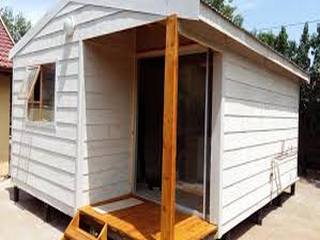 Flat Roof
The roof is 2.4m at the front, sloping to 2.2m at the rear of the building. This allows rain water to run off the back of the building, away from the doors and windows at the front. The direction of the slope is only a recommended preference and can be changed to suit your requirements. Typically we use corrugated sheeting for our roofing- its strong, durable, and weather proof, as well as being low maintenance.
Pitched Roof
This is what you would say is a classic roof type. It slopes from both sides up to an apex, with a gable at either end. Heights depend on the size and pitch desired, however, typically, the lowest point is 2.2m and the apex is 2.4m. Orientation can be either direction, and even accommodated in odd shaped Wendy houses.
Wooden Flooring
The traditional way of flooring a Wendy house is to use a pallet type construction in which joists are supported on levelled blocks, and then sheets of durable ply are laid over these and fixed in place. The rigidity and stability of the floor is paramount in building a solid, dependable structure that will survive the rigors of use. A wooden floor provides this rigidity, but still allows the unit to be classed as temporary, as it has no fixed foundation, and can be easily moved if required.
Aluminium Windows  
Strong, durable, and incredibly low maintenance, pre-sealed aluminium windows and doors are a great option if traditional look is not your thing. The glass is thick and strong and the frames stand up to our harsh climate with little to no maintenance. The units come pre made by reputable manufacturers and comply with all SABS standards.
 Concrete Flooring
A slab of concrete is laid as the base of your Wendy house. This is obviously very stable, but does make your unit a semi-permanent structure. Slabs are laid to SABS standards, and remove the springiness often associated with wooden floors. Your concrete floor can then be finished to your specification, be it tiled, laminated, or simply painted.
Wooden Windows
Made from sustainable plantation and invader species hard wood by reputable window manufacturers and finished to SABS specifications. Wooden window frames match our traditional wood finish Wendy houses perfectly. This versatile option can also be painted to suit any colour scheme. With proper maintenance and care, wooden doors and windows will last a life time.
Electrical
From a simple light or wall plug to fully function home electrics, including distribution boards, we have the skilled tradesmen on hand to install your needs. All work is to SABS standards, and done by a certified electrician.
Plumbing 
We can produce Wendy houses that can be used as a home, including a fully functioning bathrooms and kitchens. If there is an existing water infrastructure then our plumbers can plug you in. All work complies with SABS standards and is carried out by certified plumbers.
Partitions
If you are building a larger unit then you may need to sub divide the internal space. We have you covered, with a range of stud wall options. From simple partitions to cavity stud walls, as well as ceilings, we can produce a Wendy house to suit your needs.
Experience
Our combined team carries over 50 years experience in this industry
Quality
We make use of good quality materials
Satisfaction
We all about customer satisfaction and that is why all our work comes with a guarantee
[rt-testimonial id="130" title=""]
Nutec Houses
Wendy  Houses
Plumbing
Electrical
Painting
Tiling
Decking